AC Installation in Spencer, IA
Best-in-Class Air Conditioning Replacement in Clay & Dickinson Counties
When was the last time your air conditioning system was replaced? If the time has come for an upgrade, Midwestern Mechanical Inc. can help. We can provide lasting AC installation in Spencer and Spirit Lake for residential and commercial properties. With more than 300 highly trained, qualified, and talented professionals, our Spencer AC specialists are prepared to handle any installation as well as any AC repair.
---
Get your free estimate on dependable AC installation or replacement in Spencer, Spirit Lake, and beyond by calling (712) 201-2258 or contacting us online today!
---
Advantages of Upgrading Your AC System
Is your air conditioning system more than 10 years old, breaking down frequently, or just not keeping your home cool enough? These are signs that it may be time to replace your AC unit in Spencer or Spirit Lake. While many people wait until their systems stop working completely, there are benefits to upgrading your old and inefficient air conditioning system, even if it is still running.
Upgrade your air conditioning unit to enjoy benefits that include:
Reduced energy costs -
With an upgraded AC system in your home, you will save money on your month to month energy costs. When you AC runs efficiently, it means it won't have to work as hard or use as much energy!
Better indoor air quality -
New air conditioning systems can help better move the air throughout your home. It can help provide cleaner air with new air filtration as well as create even temperatures throughout your home.
Quieter operation -
With a new AC system, it allows for the proper sized equipment to be installed and improves not only the cooling in your home, but can provide your home with a much quieter system.
If you are concerned about the health and reliability of your AC system, our technicians can evaluate its performance and help you determine if now is the right time for replacement. Since our Spencer AC installation & replacement company was established in 1983, we have earned a reputation for top-notch products and superior service that is customized to the needs of every residential and commercial property we service.
---
Contact us online or call (712) 201-2258 to request your free estimate on dependable AC installation or replacement in Spencer, Spirit Lake, Milford, Okoboji, or surrounding areas today!
---
When Should I Replace My AC?
If you are noticing that your AC unit seems to be in constant need of repair, it could be that you need to replace your old unit. As much as we would like it, AC units aren't supposed to last forever.
Below we have provided 4 signs to look for on when it may be time to replace your AC:
AC Unit is Over 15 Years Old -
On average an AC unit will last up to 15 years with proper maintenance. But as the unit is nearing the end of it's lifespan it may start to run less efficient and start to be more of a problem then an asset to your home.
Higher Energy Bills -
As an AC unit gets older it becomes less efficient and can take more energy to properly cool the home. When you use more energy, your energy bill will go up and cost you more money.
Unit Makes Odd Noises -
AC units always make some noise. But, if you are hearing loud bangs, clangs are even screeches, it may be time to invest in replacing your AC unit.
Constant Repair -
If you have had to repair your unit more then twice in a year, you may end up spending more money repairing your air conditioning unit than putting that money towards upgrading to a new AC unit.
The Right AC System for Every Customer
Replacing your old, inefficient AC unit with a new model can save hundreds of dollars each year on your air conditioning costs. It is important to choose the right system to maximize comfort and efficiency. There are several factors that should be considered when purchasing a new air conditioning unit for your home or commercial property.
We can help you consider important issues, such as:
The right type of system (central AC or ductless mini-split systems)
Sizing the system properly to accommodate your cooling needs
Energy efficiency
Cost
Additional options, such as programmable thermostats
We are happy to assess your needs to determine the right size and type of system for your property, answer your questions, and provide the information you need to make the right decision. Our team partners with leading brands in the industry to provide local homeowners and businesses with a wide range of options for AC installation in Spencer, Spirit Lake, and beyond.
What to Expect from the AC Installation Process
The AC installation process is a crucial step towards achieving optimal comfort and efficiency in your home or business. At Midwestern Mechanical Inc., we prioritize a smooth and professional installation experience for our customers.
Here's what you can expect during the AC installation process:
Consultation and Assessment: Our team will schedule an initial consultation to assess your specific cooling needs and determine the best AC system for your space. We will evaluate factors such as the size of your property, existing ductwork (if applicable), electrical capacity, and any specific requirements or preferences you may have. This assessment helps us tailor the installation process to meet your unique needs.
Scheduling and Preparation: Once you have selected the AC system that meets your requirements, we will work with you to schedule a convenient installation date and time. Our team will arrive punctually, ready with the necessary tools and equipment to begin the installation process. We will also discuss any preparations you need to make before our arrival, such as clearing the installation area or ensuring access to electrical connections.
Professional Installation: Our highly trained technicians will begin the installation process, adhering to industry best practices and local building codes. They will carefully handle all components of the AC system, ensuring proper connections and placement. If necessary, they will install or modify the ductwork, ensuring optimal airflow and distribution throughout your space. Our team will take steps to minimize disruptions and maintain a clean work environment during the installation.
System Explanation and User Instructions: After the installation is complete, our team will provide you with a detailed explanation of how to operate and maintain your new AC system. We will answer any questions you may have regarding temperature control, thermostat settings, air filter replacement, and other important aspects of system operation. Our goal is to ensure that you feel confident in using and maintaining your new AC system.
Post-Installation Support: Our team offers post-installation support and assistance, should you have any questions or concerns about your newly installed AC system. Additionally, we can provide information on maintenance plans, service warranties, and regular tune-up schedules to keep your system running smoothly for years to come.
At Midwestern Mechanical Inc., we strive to deliver a seamless AC installation process, prioritizing professionalism, expertise, and customer satisfaction. Reach out to our team today to schedule an AC installation consultation, and let us provide you with the comfort and efficiency you deserve.
---
Receive your free estimate on professional AC replacement or installation in Spencer, Spirit Lake, and surrounding areas by calling (712) 201-2258 or contacting us online today!
---
Flying High Above The Rest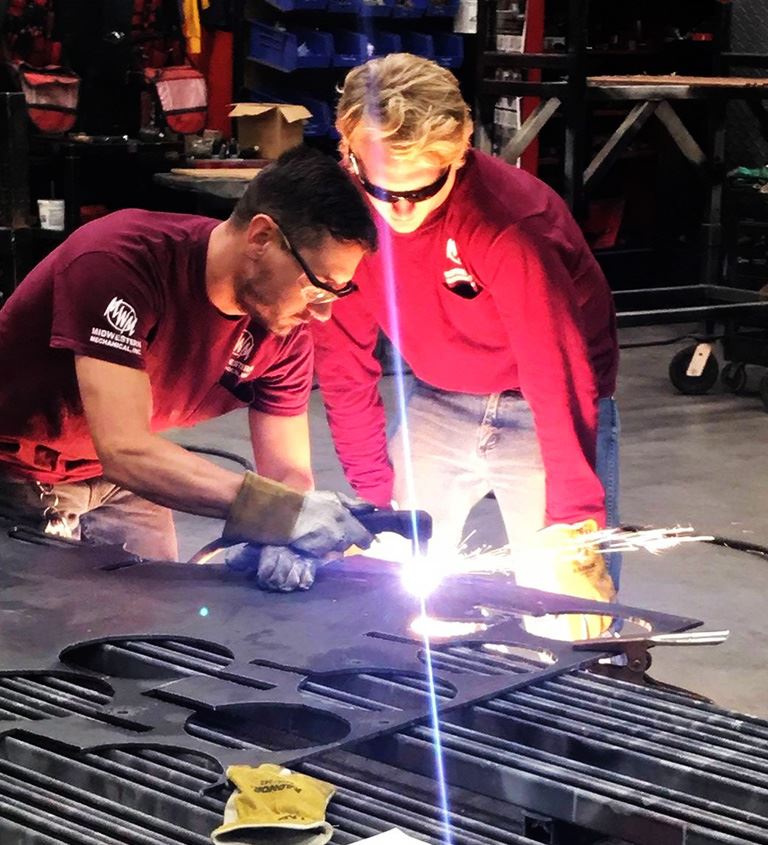 Free Estimates

Our estimates are always free whether in-person or over the phone.

Large Fleet of Trained Technicians

We have over 300 employees ready to take on any task.

Training Programs

We have our own apprenticeship program and training programs.

Available 24/7

We are always available to take your calls because we know emergencies happen.
Request Your Free Estimate on Spencer AC Installation
If you are ready to replace your old equipment, the best place to start is by calling for a free estimate for AC installation in Spencer, Okoboji, Spirit Lake, Milford, and beyond. We offer free in-person estimates, so we can evaluate your needs, the size of the space, and provide an accurate estimate for the cost of your new system installation.
We have a strong focus on education and training to ensure that our technicians are prepared to provide expert installation on every job. Your air conditioning unit is a big investment and we want to help you get the most from it with reliable performance. After your installation is complete, we can help you keep your AC system operating efficiently with regular preventive maintenance.
Schedule reliable AC replacement or installation in Spencer, Okoboji, Spirit Lake, Milford, and beyond by calling (712) 201-2258 or contacting us online today!