AC Maintenance in Spencer, IA
Comprehensive Annual Air Conditioning Tune-Ups in Dickinson & Clay Counties
Have you been maintaining your AC unit? When was the last time you had an AC tune-up in Spencer? A lot of people choose to ignore issues with their air conditioning because it continues to run. Don't wait until you see signs that your air conditioning system needs repair. By then it might be too late and you could end up needing an extensive, costly repair or a new AC unit installed completely!
AC maintenance is incredibly important -- at Midwestern Mechanical Inc. we offer superior air conditioning maintenance services for clients throughout Spencer, Milford, Okoboji, Spirit Lake, and surrounding areas. Trusted by homeowners and business owners alike, we have provided exceptional AC services in Iowa since 1983. We have over 35 years of experience in our industry and our highly trained technicians know what it takes to perform first-rate air conditioning maintenance on units.
Request your free estimate on comprehensive AC maintenance or tune-up in Spencer, Spirit Lake, and beyond by calling (712) 201-2258 or contacting us online today!
Air Conditioning Maintenance
Even the latest and greatest AC systems need to be maintained regularly to ensure that they run smoothly, are energy efficient, and operate for a long time.
How Often is AC Maintenance Needed?
Generally, you should have air conditioning maintenance twice a year-- once in the fall and once again in the spring. This ensures that your AC unit is clean and that all of the parts are in tip-top condition.
During the fall season, our Spencer AC service technicians can tune-up your unit and ensure that your heater is ready for the upcoming winter. In the spring, they can make sure that your AC is ready to go against the Iowa heat and humidity.
How to Maintain an AC Unit
Aside from the twice-a-year AC maintenance from our professionals, there is also maintenance you can perform as an owner of an air conditioning system to ensure that it lasts you a long time.
Replace the Filter Regularly
AC filters take in all the dust and dirt that naturally float around in the air and stop it from getting into your home. But air filters do not last forever and need to be changed on a regular basis.
To ensure that your AC continues to function at its best, replace the air filter every 3 months. If you have pets in your home or business, be sure to change the filter more often.
Keep the Condenser Clean
The condenser is the part of your AC unit that is outside of your home. This means that it is exposed to nature -- rocks, dirt, branches, leaves, and other types of overgrowth. Even outdoor critters like squirrels, mice, or rats have been known to chew through wiring.
To minimize the damage, ensure that the area around your condenser is clear of trees or hedges -- keep at least 5 feet of clearance on each of its sides.
Keep the Condensate Drain Clean
Condensate drains clog up when the air conditioner is working less. This is because on hot days, when the AC is running, it is constantly removing water from the air. When the AC is not used, the condensate drain may start to accumulate gunk, and algae, and develop mold.
Keep your condensate drain clean by pouring a cup of plain vinegar at the beginning of every season.
Watch Out for Mold on Vent Covers
Vent covers can develop mold easily due to excess humidity. You don't want mold on your vents because your AC system will distribute that air throughout the ducts and rooms in your home or office. Keep an eye out for any mold during humid seasons because it can grow quickly.
Schedule Professional AC Maintenance in Spencer
If you are in need of AC maintenance in Spencer, Midwestern Mechanical Inc. is available 24/7. Our professional air conditioning maintenance technicians are ready to arrive at your home or business to inspect, diagnose, and maintain your system. If you need an AC tune-up in Spencer, we have you covered -- ensure that your AC system operates optimally by contacting us today!
Call (712) 201-2258 or contact us online to request performance-boosting AC maintenance & tune-up in Spencer, Spirit Lake, Milford, Okoboji, and beyond!
Flying High Above The Rest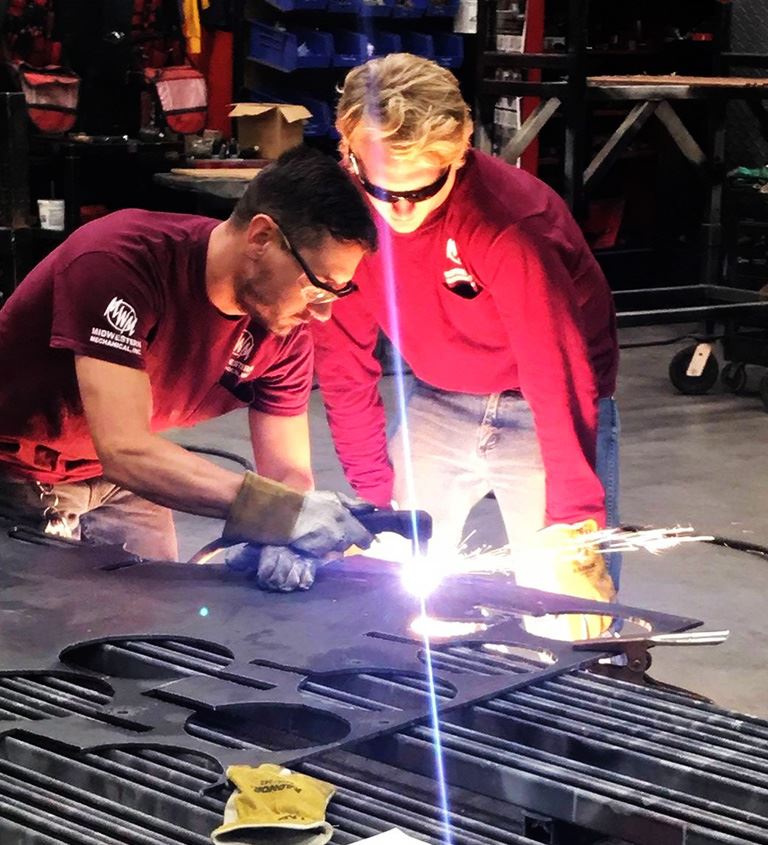 Free Estimates

Our estimates are always free whether in-person or over the phone.

Large Fleet of Trained Technicians

We have over 300 employees ready to take on any task.

Training Programs

We have our own apprenticeship program and training programs.

Available 24/7

We are always available to take your calls because we know emergencies happen.