AC Repair in Spencer, IA
Superior 24-Hour Air Conditioning Repair in Clay & Dickinson Counties
Air conditioning is one of those modern comforts that we take for granted until something goes wrong and the AC stops working. At Midwestern Mechanical Inc., we offer AC repair in Spencer, Milford, Okoboji, Spirit Lake, and surrounding communities. We have more than 35 years of experience in our industry and the knowledge and skill needed to restore your air conditioning quickly and efficiently.
Call (712) 201-2258 or contact us online to schedule quick & dependable AC repair in Spencer, Milford, Spirit Lake, and surrounding communities today!
Signs Your AC Needs Repair
Many people overlook minor air conditioning problems, hoping it won't get any worse or thinking the problem isn't too serious because the system is still running. However, it is usually better and more cost-effective to contact a professional HVAC contractor to help. This allows us to find and solve the problem before you ever experience a complete loss of air conditioning.
We recommend requesting air conditioning repair in Spencer if you notice:
Uneven cooling - If you notice areas of your home that don't seem to cool down, this could be that your air ducts have leaks in them and aren't allowing for the cool air to reach certain areas of your home. Contact us as soon as you notice this and we'll come and inspect your air ducts.
Loud banging or rattling noises - Loud banging or rattling noises are always an indicator that something may not be functioning properly on your AC unit. It could be anything from a loose belt to a fan motor that is broken. Since loud noises are always a cause for concern, contact us today for expert AC repair in Spencer, Milford, Okoboji, or Spirit Lake.
Frequent cycling - Your AC unit is going to turn on and off through out the day in order to keep your home at the proper temperature. But, if you notice that your AC unit is turning on and off every 5 minutes or less, this could be your unit "short-cycling" and that's a problem.
Increasing energy costs - An increase in your energy bill is usually a clear sign that something is wrong with your AC unit. If your AC system is in need of repair it means that it is having to work twice as hard in order to provide the proper amount cool air throughout your household, which would also increase your energy bill.
Often, we are able to restore your air conditioning by replacing the component that is damaged. Our service trucks are stocked with the tools needed to accurately diagnose the problem with most equipment brands. If the system is damaged beyond repair or the repair is very expensive, we may recommend AC replacement.
Servicing All Residential & Commercial Systems
Our technicians are trained and equipped to provide AC repair in Spencer for central air conditioning systems, ductless mini-split systems, and commercial air conditioning systems. We provide high-quality AC maintenance and repair for equipment from all major brands in our industry. Our technicians receive ongoing training and education to deliver the highest quality repair service and make sure the job is done right.
We solve common AC problems, such as:
Dirty condenser coils
Faulty motor
Worn belts
Low refrigerant levels
Leaking refrigerant
Clogged drain lines
Frozen evaporator coils
Thermostat problems
When we arrive at your home or business for repair service, we start with an inspection of your system and test the components to accurately diagnose the problem. Once we have found the cause of your issue, we will fully explain your repair options and provide a free estimate for the cost of your repair.
Why is My AC Not Blowing Cold Air?
This is the most common air conditioner concern we hear about--Either the AC unit is blowing warm air or no air at all.
There are several reasons why an air conditioner may not be blowing cold air. Some typical reasons include:
Malfunctioning thermostat

Dirty filters, coil, or compressor

Low/leaking refrigerant

Blocked condensate line

Incorrect thermostat settings
There are a few things to check to solve the problem, including the last time you changed your filter and the thermostat settings to make sure it's set to a temperature below the ambient temperature (this can be challenging during season changes). If this doesn't resolve the issue, the problem probably requires the assistance of a professional.
Need a Second Opinion?
There are a lot of HVAC scams out there. If it sounds fishy, it's worth investigating.
One such scam involves refrigerant. If your unit is low on refrigerant, it means an active leak is present and needs to be addressed. Refrigerant should never run low in a closed system, so any indication of shortage is a strong indication that a leak is occurring somewhere and allowing the precious, expensive coolant to escape. However, some AC techs may try to offer you a "refrigerant recharge" as the solution to this problem. Doing this, however, only delays finding the source of the leak and keeps you paying for refrigerant you shouldn't need in the first place. A reliable technician will always search for the source of the issue before prescribing a quick fix solution that puts off the inevitable cost of repairing the leak.
Contact us online or call (712) 201-2258 to request fast & reliable AC repair in Spencer, Milford, Spirit Lake, Okoboji, or surrounding areas today!
Flying High Above The Rest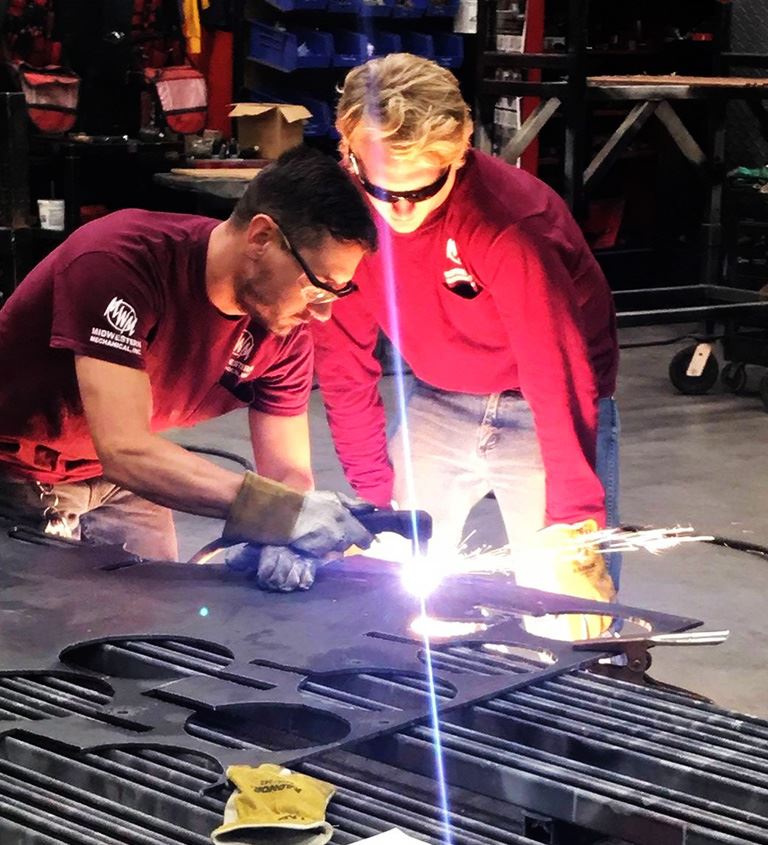 Free Estimates

Our estimates are always free whether in-person or over the phone.

Large Fleet of Trained Technicians

We have over 300 employees ready to take on any task.

Training Programs

We have our own apprenticeship program and training programs.

Available 24/7

We are always available to take your calls because we know emergencies happen.
Emergency 24-Hour AC Repair in Spencer
You won't be left to suffer in the heat when you call Midwestern Mechanical Inc. for AC repair in Spencer, Okoboji, Spirit Lake, Milford, and beyond. We have more than 300 employees and the ability to provide same day service for air conditioning repair. In addition, we have 24-hour emergency air conditioning repairs available 7 days a week, so you can always get the help you need when you need it.
At Midwestern Mechanical Inc., we can fix any AC problem and help you prevent future air conditioning problems with our preventive maintenance service. We offer comprehensive maintenance for air conditioning systems from all major manufacturers. Our Spencer AC technicians can prevent sudden and unexpected breakdowns by identifying potential issues during maintenance visits and fixing the problem before your system stops working.
Contact us online or call (712) 201-2258 to schedule swift & superior 24-hour emergency AC repair in Spencer and surrounding areas today!