Backflow Prevention in Spence, IA
Comprehensive Testing & Backflow Preventer Installation in Clay & Dickinson Counties
Protecting your water supply from contamination is a top priority, and that's where Midwestern Mechanical comes in. We specialize in providing expert backflow prevention services in Spencer, IA, ensuring the safety and purity of your water. With a dedicated team of professionals and a commitment to excellence, we offer comprehensive backflow prevention solutions for residential, commercial, and industrial properties.
Backflow prevention devices are designed to protect your water supply from contamination. At Midwestern Mechanical Inc., we understand that these devices are necessary, and required by law to be in working condition. Whether you need a device installed, repaired, or tested, we offer services for backflow prevention in Spencer, Spirit Lake, Okoboji, Milford, and surrounding areas to meet your needs.
Contact us to schedule backflow prevention service at your home or business.
The Importance of Backflow Prevention
When there is a loss of water pressure, it can cause water to flow backward in the system, which is known as back-siphonage. This can cause the water supply to become contaminated with toxic chemicals and other contaminants. Depending on the contaminants that are present in the water, this can cause a potential public health crisis.
A loss of water pressure may be caused by:
Water main breaks
High water usage, such as for fighting fires
Sprinkler systems for watering lawns
Certain industrial equipment
Cooling towers
Fire sprinkler systems
Hose attachments for sink faucets
Mop sinks
Water or chemical tanks
The elevation of a building
Backflow prevention devices are designed to prevent back-siphonage in the event of a sudden drop in water pressure. The device senses a change in pressure or water flow and quickly turns off the water supply. This prevents contamination of the fresh water supply and protects public health.
Fully Certified for Backflow Prevention
If you are looking for a professional for backflow prevention in Spencer, call Midwestern Mechanical Inc. We are licensed for backflow prevention device testing, installations, and repairs in Iowa, South Dakota, Minnesota, and Nebraska. Our service technicians are fully trained as well as ABPA and ASSE Certified with extensive knowledge of backflow prevention devices and testing procedures.
When we come to your home or business for annual backflow prevention testing, you should expect to have your water supply briefly interrupted during the testing process. We work to minimize the disruption to your business, and the water is only turned off for about 10 to 30 minutes. We recommend informing anyone present in your home or commercial facility of this interruption in advance.
Please contact us online or give us a call at (712) 201-2258 to schedule backflow prevention installation, repair, or testing at a time that is convenient for you.
If you're inquiring about a copy of an Inspection form, please click here.
Flying High Above The Rest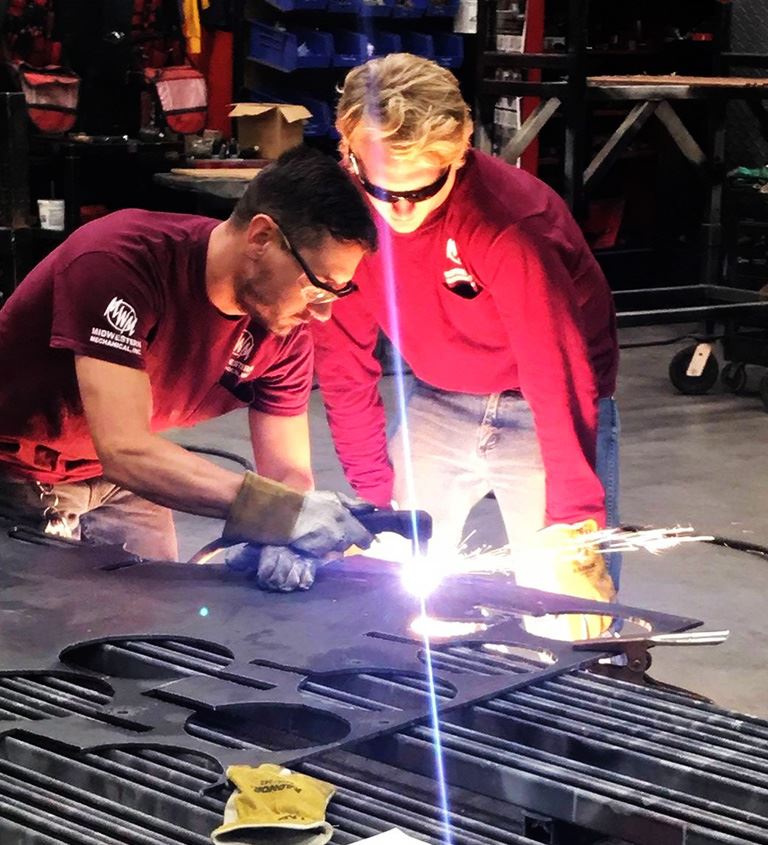 Free Estimates

Our estimates are always free whether in-person or over the phone.

Large Fleet of Trained Technicians

We have over 300 employees ready to take on any task.

Training Programs

We have our own apprenticeship program and training programs.

Available 24/7

We are always available to take your calls because we know emergencies happen.
Backflow Prevention Services
In addition to installing a backflow prevention device, you are required to have the devices tested annually. The law requires that testing be conducted by a certified and licensed professional. You will be notified of the testing requirement. At Midwestern Mechanical Inc., we offer reliable services for backflow prevention in Spencer, Okoboji, and the surrounding communities.
Our backflow prevention services include:
New backflow prevention device installation
Testing
Inspections
Repairs
We are committed to providing the highest quality service, best products on the market, and exceptional customer service on every job. When you need help quickly, we are able to respond to your call with same day service or emergency service for problems that happen after our normal business hours.
What Are the Benefits of Regular Backflow Testing and Maintenance?
Backflow prevention is essential to safeguarding the purity and safety of your water supply. Regular backflow testing and maintenance play a vital role in ensuring the continued effectiveness of backflow prevention devices. At Midwestern Mechanical, we emphasize the significance of routine upkeep and offer comprehensive services to protect your water quality and overall well-being.
Ensuring Water Purity: Regular testing and maintenance of backflow prevention devices prevent the contamination of potable water by keeping pollutants and hazardous substances from flowing back into the water supply.
Compliance with Regulations: Municipalities and regulatory bodies often require routine backflow testing and certification. By staying compliant, you contribute to the overall safety and integrity of the public water system.
Early Detection of Issues: Regular testing allows for the early detection of potential problems with backflow prevention devices. Identifying issues promptly can prevent costly repairs and potential emergencies.
Extending Device Lifespan: Regular maintenance and servicing help extend the lifespan of backflow prevention devices. Well-maintained devices are less likely to experience premature wear and deterioration.
Reliable Performance: Properly maintained backflow prevention devices perform optimally when needed. This reliability ensures protection against contamination and helps maintain consistent water pressure.
Cost Savings: Addressing minor issues during routine maintenance can prevent larger problems that may require costly repairs or replacements. Investing in maintenance now can save you money in the long run.
Peace of Mind: Knowing that your backflow prevention devices are well-maintained and tested provides peace of mind that your water supply remains safe and reliable.
Community Health and Safety: By maintaining your backflow prevention devices, you contribute to the overall health and safety of your community, ensuring that waterborne diseases and contaminants are kept at bay.
Professional Expertise: Engaging professionals for backflow testing and maintenance ensures that the job is done accurately and in compliance with industry standards and regulations.
Preventing Emergency Situations: Routine maintenance minimizes the risk of sudden device failure, helping prevent emergencies that can disrupt water supply and pose health hazards.
At Midwestern Mechanical, we are committed to ensuring the integrity of your water supply through expert backflow testing and maintenance. Our skilled technicians are equipped with the knowledge and tools to assess, service, and certify your backflow prevention devices, safeguarding your water quality and promoting community well-being.
Make sure you check out our professional AC repair before those hot summer months get here! Read our testimonials to see what other people think!