Plumber in Spencer, IA
24-Hour Plumber for Professional Repair, Replacement & Installation
All homes and businesses in the Spencer and throughout Iowa depend on reliable and properly functioning plumbing systems. A plumbing problem can completely disrupt normal operations and should be addressed immediately to minimize property damage.
Since 1983, the Spencer plumbers at Midwestern Mechanical Inc. have provided reliable service for residential and commercial plumbing throughout Spencer, Spirit Lake, Okoboji, Milford, and beyond. At the first sign of trouble, get in touch with us for jobs of all sizes.
Please call (712) 201-2258 or contact online for a free estimate for Spencer plumbing services and to schedule an appointment.
Common Plumbing Problems To Look For
If you are a home or business owner, the best prevention you can do is know the common plumbing problems. Knowing so you can alert your local plumber in a reasonable time, before the problem gets worse. Common plumbing issues include:
Clogged drains
Clogged toilet
Slow drains
Water leaks
Water not heating
Low Water pressure levels
Qualified Plumbers for Any Job
Whether you need a gas line installed, a damaged sewer line repaired, or fixtures replaced, we offer plumbing services to accommodate every need from highly skilled and qualified professional plumbers. We partner with the best manufacturers in the plumbing industry to provide local homes and businesses with expert installation and the products they need.
Our residential and commercial plumbing services include:
Backflow prevention
Sewer line repair
Water lines
Gas lines
Medical gas systems
Plumbing remodeling
Toilets, faucets, and fixtures
We employ more than 300 highly skilled and competent professionals to deliver dependable on-time service for plumbing in Spencer and beyond. At Midwestern Mechanical, Inc., we focus on education and provide apprenticeships and ongoing training to ensure that we have the most experienced and talented workforce in the region. You can be sure that we have the skill and expertise to handle any plumbing issue.
Emergency Plumbing Services
Our expert plumbers are here to get you back to business quickly with prompt service for plumbing in Spencer. We are ready to take on any task and here whenever you need us with same day service. Emergency plumbing service is offered for problems that happen after our normal business hours and over the weekend. We are equipped to handle any plumbing problem at your home or business.
Estimates are always free for our plumbing repair and installation services. After we have assessed the problem, we explain the repair options and the full cost of the job before we get started on your plumbing repair.
Get started today by contacting us for a free estimate and to schedule plumbing service in Spencer, Okoboji, Milford or beyond.
Flying High Above The Rest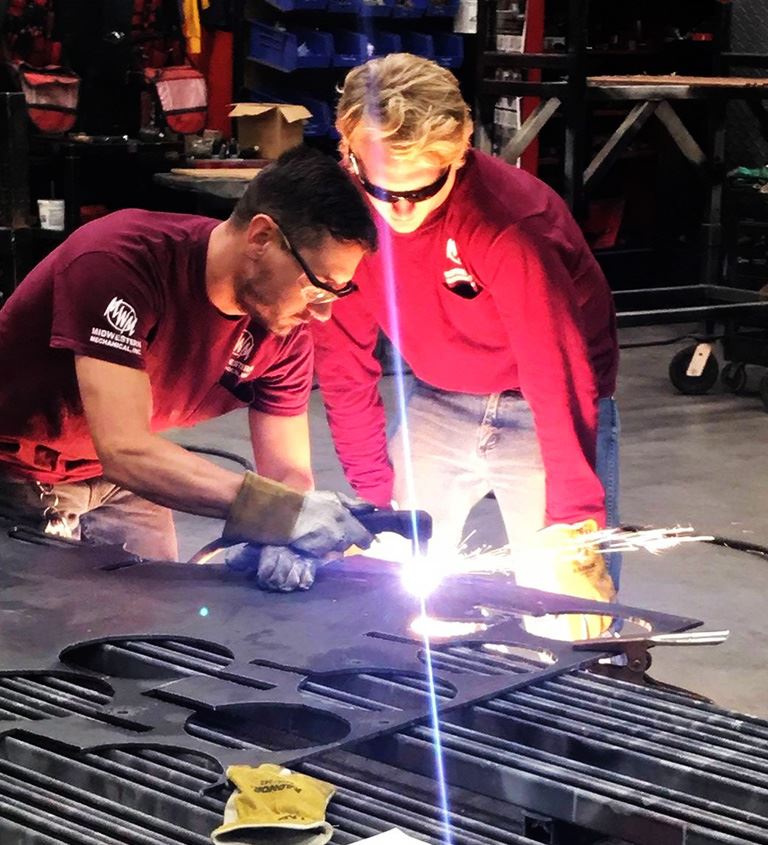 Free Estimates

Our estimates are always free whether in-person or over the phone.

Large Fleet of Trained Technicians

We have over 300 employees ready to take on any task.

Training Programs

We have our own apprenticeship program and training programs.

Available 24/7

We are always available to take your calls because we know emergencies happen.
Custom Plumbing System Design
Do you need a new plumbing system or want to expand your existing system for ? We can help with that too. Every residential and plumbing system requires a unique approach. Our in-house designers and close relationships with local engineering firms allows us to provide completely customized plumbing systems for residential homes, commercial properties, and industrial facilities of all sizes.
Regardless of the size or scope of your plumbing project, our experienced and talented team of professionals offers quality work with the highest degree of integrity. We have decades of experience and the skill needed to handle the complexities of large commercial and industrial plumbing systems. Our more than three decades of experience has provided us with the expertise needed to serve any commercial or industrial property in the public or private sector.