Plumber in Spencer, IA
Responsive 24-Hour Emergency Plumbing Repair & Replacement
At Midwestern Mechanical, we take pride in our commitment to providing top-notch plumbing solutions for our clients. With years of experience under our belt, our skilled and licensed plumbers are dedicated to delivering exceptional service, tackling plumbing challenges of all sizes, and ensuring that your plumbing systems run seamlessly.
All homes and businesses in Spencer and throughout Iowa depend on reliable and properly functioning plumbing systems. A plumbing problem can completely disrupt normal operations and should be addressed immediately to minimize property damage.
Since 1983, Midwestern Mechanical Inc.'s experienced plumbers in Spencer, Spirit Lake, and beyond have provided reliable service for residential and commercial systems. At the first sign of trouble, get in touch with us for jobs of all sizes.
Call (712) 201-2258 or contact us online to request your free estimate with our preferred plumbers in Spencer, Spirit Lake, and beyond!
Our Plumbing Services
Whether you need a gas line installed, a damaged sewer line repaired, or fixtures replaced, we offer plumbing services to accommodate every need from highly skilled and qualified professional plumbers in Spencer and surrounding areas.
We partner with the best manufacturers in the plumbing industry to provide local homes and businesses with expert installation and the products they need.
Our residential and commercial plumbing services in Spencer include:
Sewer line repair
Water lines
Gas lines
Medical gas systems
Plumbing remodeling
Toilets, faucets, and fixtures
What Are the Most Common Plumbing Issues?
If you are a home or business owner, the best prevention you can do is know the common plumbing problems. Knowing so you can alert your local plumber in Spencer in a reasonable time before the problem gets worse.
The most common plumbing issues include:
Clogged drains
Clogged toilet
Slow drains
Water leaks
Water not heating
Low Water pressure levels
What Is Considered a Plumbing Emergency?
A plumbing emergency refers to a sudden and severe plumbing issue that requires immediate attention to prevent damage to your property, potential health risks, and disruption to your daily routine.
These emergencies often involve issues that can lead to:
Water damage
Flooding
Or unsanitary conditions
Recognizing when a plumbing problem becomes an emergency is essential for timely intervention and prevention of further complications.
Signs You Have a Plumbing Emergency
Plumbing emergencies can arise unexpectedly and demand immediate attention to prevent extensive damage and inconvenience. Recognizing the signs of a plumbing emergency is essential for taking swift action and minimizing the impact on your property.
Here are common signs that indicate you're facing a plumbing emergency:
Burst Pipes: A sudden and forceful flow of water from a burst pipe can cause flooding and water damage. If you notice water spraying or gushing, turn off the main water supply and seek professional help.
Sewage Backup: If wastewater starts to back up into sinks, showers, or toilets, or you detect foul odors, it signifies a potential sewage backup. Sewage issues can pose health risks and need immediate attention.
Flooding: Any type of flooding, whether from a burst pipe, malfunctioning appliance, or heavy rain, requires urgent action to prevent damage to your property and belongings.
Gas Leak: The distinct smell of gas in your home indicates a gas leak, which is dangerous and requires immediate action. Evacuate the premises and call professionals to address the leak.
No Water: A sudden loss of water in your entire home could indicate a major issue with the water supply. Check with neighbors to confirm if it's a local issue or call a plumber if the problem persists.
No Hot Water: While not always an emergency, a sudden lack of hot water can be distressing, especially during colder seasons. If it impacts your comfort, consider it a priority.
Frozen Pipes: Frozen pipes can lead to burst pipes and water damage when they thaw. If you suspect frozen pipes, turn off the water supply and seek professional help.
Leaking Water Heater: A leaking water heater can cause water damage and a disruption in hot water supply. Address the issue promptly to prevent further complications.
Uncontrollable Toilet Overflow: If your toilet is overflowing and you can't stop it, it's a plumbing emergency that requires immediate attention to prevent water damage.
Severe Leaks: Large leaks that release a significant amount of water need urgent intervention to prevent property damage.
Water Stains or Mold Growth: Water stains on walls, ceilings, or floors, as well as sudden mold growth, can indicate hidden leaks that require immediate attention.
In any of these situations, staying calm and taking immediate action is vital. Contact licensed and experienced plumbers who specialize in emergency services to address the issue safely and effectively. At Midwestern Mechanical, we're prepared to handle plumbing emergencies 24/7, ensuring your property and peace of mind are safeguarded.
What Are the Benefits of Professional Plumbing Services?
When it comes to plumbing problems, it can be tempting to try and fix things yourself to save money. However, DIY solutions often lead to bigger problems, costing you more money and stress in the long run.
Hiring a professional plumber from Midwestern Mechanical (Spencer) can provide numerous benefits for your home or business:
Expertise and experience to diagnose and solve complex plumbing issues
Access to specialized tools and equipment to handle any plumbing job
High-quality and long-lasting solutions to prevent future problems
Compliance with local and state plumbing codes and regulations
Efficient and timely services to minimize downtime and inconvenience
At Midwestern Mechanical (Spencer), our licensed and insured plumbers are dedicated to providing top-notch plumbing services for our customers in Spencer, IA, and the surrounding areas. Whether you need routine maintenance, emergency repairs, or custom plumbing system design, we have the expertise and resources to get the job done right. Reach out to our team of experienced plumbers today to schedule an appointment!
Why Choose Midwestern Mechanical?
At Midwestern Mechanical, Inc., we focus on education and provide apprenticeships and ongoing training to ensure that we have the most experienced and talented workforce in the region. You can be sure that we have the skill and expertise to handle any plumbing issue. We employ more than 300 highly skilled and competent professionals to deliver dependable, on-time plumbing service in Spencer and beyond.
Schedule 24-Hour Emergency Plumbing Service
Our 24-hour plumbers are here to get you back to business quickly with prompt emergency plumbing service in Spencer. We are ready to take on any task and here whenever you need us with same day service.
Emergency plumbing service is offered for problems that happen after our normal business hours and over the weekend. We are equipped to handle any plumbing problem at your home or business.
Estimates are always free for our plumbing repair and installation services. After we have assessed the problem, we explain the repair options and the full cost of the job before we get started on your plumbing repair.
Get your free estimate on fast & reliable plumbing service in Spencer, Spirit Lake, Milford, and Okoboji by calling (712) 201-2258 or contacting us online today!
Flying High Above The Rest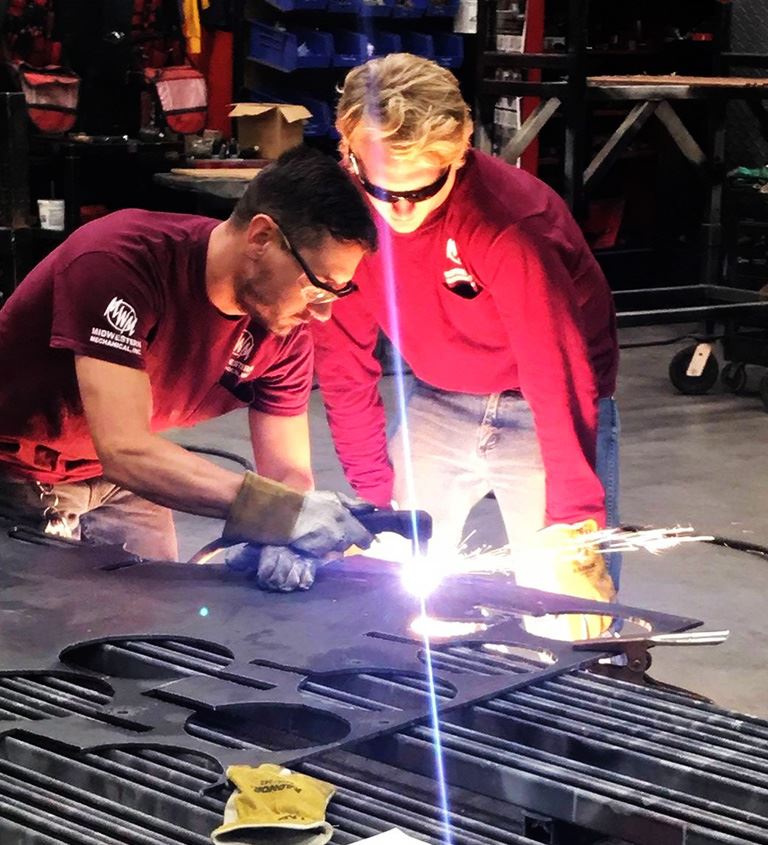 Free Estimates

Our estimates are always free whether in-person or over the phone.

Large Fleet of Trained Technicians

We have over 300 employees ready to take on any task.

Training Programs

We have our own apprenticeship program and training programs.

Available 24/7

We are always available to take your calls because we know emergencies happen.
Custom Plumbing System Design
Do you need a new plumbing system or want to expand your existing system for? We can help with that too. Every residential and plumbing system requires a unique approach. Our in-house designers and close relationships with local engineering firms allows us to provide completely customized plumbing systems for residential homes, commercial properties, and industrial facilities of all sizes.
Regardless of the size or scope of your plumbing project, our experienced plumbers in Spencer and beyond offer quality work with the highest degree of integrity. We have decades of experience and the skill needed to handle the complexities of large commercial and industrial plumbing systems. Our more than three decades of experience has provided us with the expertise needed to serve any commercial or industrial property in the public or private sector.
Call (712) 201-2258 or contact us online to schedule responsive 24-hour emergency plumbing service in Spencer, Spirit Lake, Milford, Okoboji, and beyond today!