Spencer Boiler Services
Reliable Service from Heating Specialists in Spirit Lake
A reliable heating system is absolutely essential for every home and business in this area of the country. Midwestern Mechanical Inc. offers expert repair, replacement, and installation services for boilers in Spencer, Spirit Lake, Okoboji, Milford and surrounding areas. We have served the heating and plumbing needs of residential and commercial customers in the area for more than 30 years with top quality products and industry-leading service. In addition to our boiler services, when you need AC repair during those hot summer months, give us a call!
If your boiler needs to be repaired or replaced, call (712) 201-2258 for prompt service.
Same-Day Boiler Repair
Boilers can be intimidating, and repair is best left to a professional with the right training and experience. Our experts focus on continual training to ensure that our technicians have the knowledge needed to accurately and quickly diagnose and repair problems with residential and commercial boilers. We provide repairs for boilers from all brands.
Often, the damaged parts can be easily replaced, and your comfort restored. Our heating service technicians have the tools and training needed to identify the source of the problem. We provide recommendations for repairs and free estimates for boilers in Spencer. While many problems can be fixed, some larger problems may require boiler replacement.
Replacing Your Boiler
When a boiler is very old or requires a large repair, replacement may be the better solution. Many homeowners and business owners make the decision to replace their boilers before that final breakdown to avoid getting caught without heat in the dead of winter. If you are wondering if replacement is the best option, we can inspect your boiler to help you make the best decision for your home or business.
You may want to consider replacement when your boiler is:
More than 10 or 15 years old -
As boilers become older and near the end of their lifespan, they will break down more and end up becoming less efficient. If your boiler is over 15 years old, it may be time to replace it.
Frequently in need of repairs -
Boilers that have been repaired more than twice in a year are being repaired far too much. This tends to happen as boilers get older and near the end of their lifespan.
Leaks -
Boilers that are leaking usually are leaking due to them getting older. A leak is indicative of a seal or valve that has broken, which can cause flooding. If a boiler is leaking, repair tends to cost more than replacement.
Causing an increase in your heating costs -
If you notice that your energy bills a increasing month over month, it could be because of your boiler not running as efficient as it once did.
When replacement is the best option, it is important to choose the right type of boiler for your space. We can evaluate your heating needs, explain your options, and help you choose a boiler that is properly sized to heat your space and fits your budget. Our heating technicians will handle the installation for optimal performance, so you get the most from your investment.
Get in touch with us today for boiler repair or replacement service in Spencer you can trust.
Flying High Above The Rest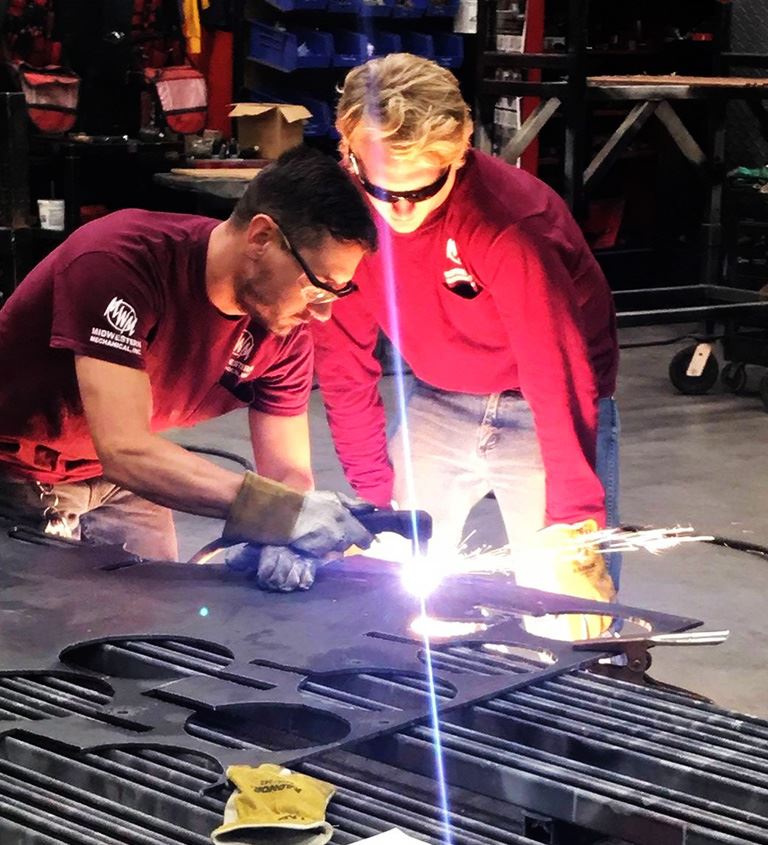 Free Estimates

Our estimates are always free whether in-person or over the phone.

Large Fleet of Trained Technicians

We have over 300 employees ready to take on any task.

Training Programs

We have our own apprenticeship program and training programs.

Available 24/7

We are always available to take your calls because we know emergencies happen.
Top-Notch Heating Solutions
At Midwestern Mechanical Inc., we work hard to provide our customers with the best quality products and unsurpassed service. When you need a new boiler or repair for your existing heating system, we offer state-of-the-art technology from skilled technicians who are equipped with the latest tools and advanced training to provide customized heating solutions for every property in Spencer, Okoboji, Milford, and beyond.
We are happy to provide free estimates, and affordable payment options are available when you need them. Whether you need repair or replacement, you can count on us to show up on time and solve your heating problem. For your convenience, same-day appointments and emergency services are available. Read our reviews and see what other people think.