Spencer Heater Repair
Servicing All Brands & Types of Heaters in Spirit Lake
When your heater isn't providing sufficient heat or has stopped working completely, call Midwestern Mechanical Inc. for dependable heater repair in Spencer, Milford Spirit Lake, and surrounding areas. We have more than three decades of experience repairing all types of residential and commercial heating systems, and our technicians are focused on exceptional service for every customer.
Contact our team today for heater repair at your home or business.
Signs You Need Heater Repair
Your heating system needs to be in good working order to keep your family warm and comfortable in the winter months. If the heater has stopped working, it is obviously in need of repair. However, there are less obvious signs of a potential problem with your heating system. We offer expert repair service for all types of heating systems, including furnaces, boilers, heat pumps, and commercial heating systems.
You may need heater repair when you notice:
Pilot Light Is Yellow -
When a pilot light is any color except blue, you have a problem. Yellow, Orange, Red or Green all are indicators for problems your heater may be having.
Uneven Heating & Cold Spots -
Have you noticed that some areas of your home are warm, while other areas are downright cold? This could be a possible leak in your ductwork and reason to contact us for help with repairing it.
Your home is not getting warm enough -
Have you found yourself constantly turning up the heat on your thermostat beyond what is typical or normal for your home? It could be a calibration problem with your thermostat and it may need repair.
If you notice that your heater isn't working as it should, don't wait to call for heater repair in Spencer. Acting quickly at the first sign of a problem can help you avoid a larger and more expensive repair or sudden loss of heat in the middle of the coldest night of winter. We have the largest fleet of trained technicians in the region to quickly resolve your heating problem and restore the comfort of your home.
Serving All Commercial Heating Systems
Commercial heating systems can be complex and require a technician with the right training and experience. At Midwestern Mechanical Inc., we focus on education and provide apprenticeships. Our technicians have training and experience with virtually every type of commercial heating system and service all major equipment brands.
In addition to repairing your commercial heating system, we offer preventive maintenance service. Our comprehensive maintenance service is designed to identify problems early, prevent breakdowns, maximize performance and energy efficiency, and prolong the life of your heating equipment. We offer maintenance service for businesses and organizations in the public and private sectors.
If you are having trouble with your heater, call (712) 201-2258 for precision repairs throughout Spencer, Okoboji & beyond.
Flying High Above The Rest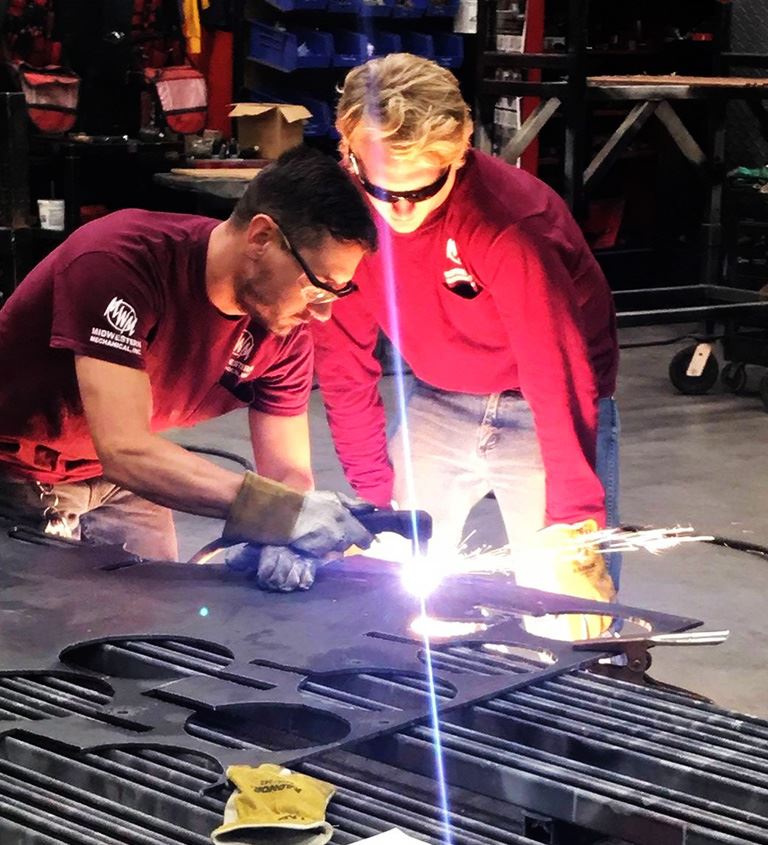 Free Estimates

Our estimates are always free whether in-person or over the phone.

Large Fleet of Trained Technicians

We have over 300 employees ready to take on any task.

Training Programs

We have our own apprenticeship program and training programs.

Available 24/7

We are always available to take your calls because we know emergencies happen.
We understand the importance of heat in the dead of winter and the urgency of getting your heater repaired when it stops working. If your heater suddenly stops working or just isn't working as it should, we can provide same-day service for heater repair in Spencer. When you have a problem at night or over the weekend, our technicians are ready to respond to your call for emergency service 24 hours a day, 7 days a week.
Estimates are always free when you call Midwestern Mechanical Inc. Our technicians will evaluate the problem and tell you the cost of your heater repair in advance, so you fully understand the work that is needed and the cost before the work begins. Our service trucks are stocked with the tools and equipment needed to provide fast and reliable service.