Spencer Heater Installation
Spirit Lake's Choice for Customized Heating Solutions
The professional HVAC technicians at Midwestern Mechanical Inc. provide top-notch service for heater installation in Spencer, Okoboji, Spirit Lake, and neighboring areas. We partner with the best brands in the industry to provide our residential and commercial customers with a wide selection of the highest quality heating solutions. Let us help you find the perfect heater and make sure it is installed according to the manufacturer's specifications. In addition to your heater installation, give us a call before summer hits to get your AC repaired in preparation for those hot months.
Call (712) 201-2258 today for a free estimate for heater installation at your home or business. 
When to Replace Your Heater
Our customers often ask whether repair or replacement is the right option. Newer heating systems are much more energy-efficient and cost less to operate than older equipment. Upgrading can improve comfort, reduce heating costs, and provide a warm and comfortable environment for your home or business. We can inspect your system to help you determine if this is the best time for new heater installation in Spencer.
Replacement may be the most cost-effective solution when:
Your Heater is more than 15 Years Old -
If your heater or furnace is over 15 years old, it may be time to look at replacing your unit. The longer after it's lifespan you keep a heater, the more likely it's going to need frequent repairs.
Oddly High Electric Bills - 
Have you noticed that your electric bills are abnormally high. Has this been happening even after the seasonal weather change? It could be due to your heater's age. As a heater gets older, it becomes much less efficient and requires more energy to properly warm your home.
Odd Noises -
Have you noticed that your heater is making some abnormal noises? If you notice loud banging or clanging, it could be due to your heater nearing the end of it's lifespan and the motor is failing and in need of replacement.
When you make the decision to replace your heater, we can help you find an energy-efficient heating system to provide reliable performance for your home or business. Our technicians have extensive experience installing furnaces, boilers, heat pumps, and commercial heating equipment from most major brands.
Choosing the Right Size Furnace
When replacing a residential or commercial heating system, it is important to select the right type and size for your space. A heater that is too small won't provide sufficient heat to warm the space. A heater that is too large will waste energy and shorten the life of the system. We have partnered with the best brands in the industry to help you find the right heater for your residential or commercial property.
When purchasing a new heater, we will help you consider:
The size of your building
Configuration of the space and number of windows
Building materials and insulation
The energy efficiency of the new heater
Newer heating systems offer greater energy efficiency than ever before. We can help you compare the features and energy efficiency of new heaters. Our technicians are happy to explain your options and work with you to find an efficient heating solution for a comfortable environment and lower heating costs. We are always willing to provide free estimates for heater installation in Spencer.
Contact our team today for more information and a free estimate for heater installation.
Extend the Lifespan of Your Heater with Regular Maintenance
Regular maintenance is essential for keeping your heater running efficiently and extending its lifespan. Our team of skilled technicians at Midwestern Mechanical can provide comprehensive maintenance services to ensure your heater is in top condition.
Benefits of regular heater maintenance include:
Improved energy efficiency: Regular maintenance helps optimize your heater's performance, reducing energy consumption and lowering your utility bills.
Enhanced indoor comfort: A well-maintained heater provides consistent and reliable heat throughout your home, ensuring your comfort during the colder months.
Prolonged lifespan: By addressing minor issues and performing necessary repairs during maintenance visits, you can extend the lifespan of your heater and avoid premature breakdowns.
Prevention of costly repairs: Regular maintenance allows our technicians to identify and fix potential issues before they turn into major problems, saving you money on expensive repairs.
Increased safety: Our technicians will inspect your heater for any potential safety hazards, such as gas leaks or faulty electrical connections, ensuring the well-being of your household.
Don't wait until your heater breaks down to schedule maintenance. Contact Midwestern Mechanical today to schedule a maintenance visit and keep your heater running smoothly all winter long.
Flying High Above The Rest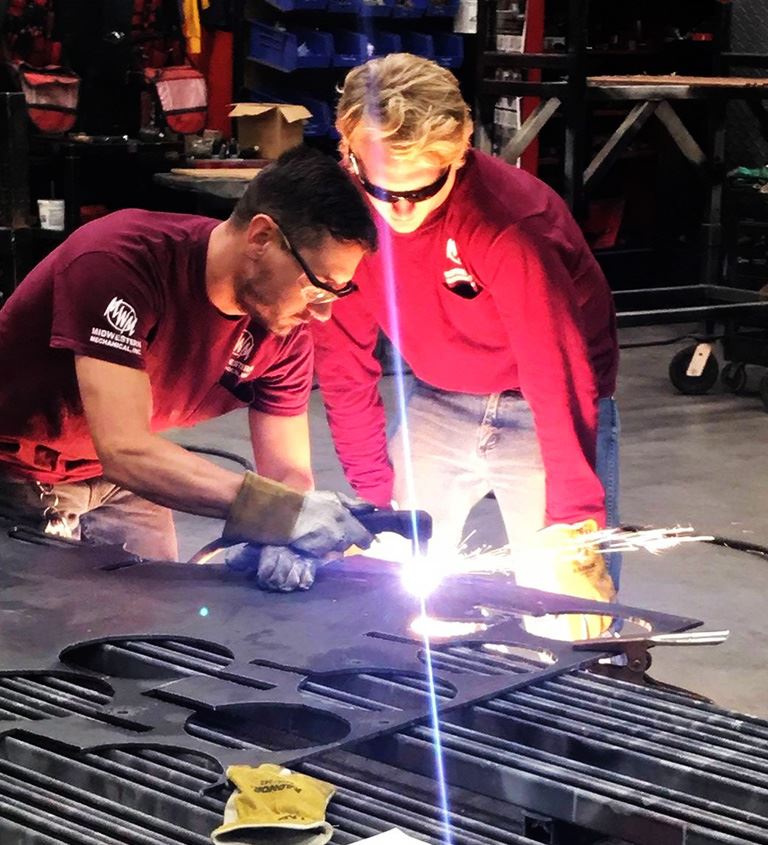 Free Estimates

Our estimates are always free whether in-person or over the phone.

Large Fleet of Trained Technicians

We have over 300 employees ready to take on any task.

Training Programs

We have our own apprenticeship program and training programs.

Available 24/7

We are always available to take your calls because we know emergencies happen.
Expert Installation of Residential & Commercial Heaters
We focus on education, and our HVAC technicians have extensive training to provide reliable heater installation for all types of residential and commercial heating systems. Our technicians receive regular training to stay informed about the latest technologies and advances in our industry to deliver the ideal heating solution for every home or business in the Spencer, Milford, and surrounding areas.
If you are replacing a heating system that is no longer working or just not keeping your space warm enough, we understand that you need fast and reliable service. We are able to provide same day service for urgent heating problems and work quickly to get your new heating system installed to improve comfort and energy efficiency. Take a look at our reviews!