Water Heater Service in Spencer, IA
Dependable Installation, Replacement & Repair in Clay & Dickinson Counties
The water heater is the most important appliance in many homes and businesses. Hot water is integral to daily life and normal business operations for many commercial and industrial facilities.
At Midwestern Mechanical Inc., we offer expert service for water heaters in Spencer, Spirit Lake, Milford, Okoboji, and surrounding communities. When your water heater stops working or it's time for replacement, we deliver superior service backed by more than three decades of experience.
---
Contact us online or call (712) 201-2258 to schedule fast & effective water heater repair or replacement in Spencer, Spirit Lake, or beyond today!
---
Water Heater Repair & Maintenance
Often, minor issues can be fixed by replacing the component that is not working, such as a heating element. If your water heater requires a simple fix, we can quickly replace the damaged component and restore your hot water. We offer same-day service and emergency water heater repair in Spencer, Spirit Lake, and beyond.
The best way to prevent unexpected loss of hot water and extend the life of your water heater is with regular maintenance. In addition to installations and repairs, we provide water heater maintenance for all types of residential and commercial units. If we notice any warning signs during our maintenance visit, we can fix it right away, so you can avoid an unexpected breakdown.
4 Signs You Need Water Heater Repair:
Fluctuating Water Heat -
Not having any hot water may seem like an obvious sign you need water heater repair. It may be that you have mineral deposits building up around the heating elements of the water heater. This makes it much more difficult for the water heater to keep enough hot water supplied to the home.
Low Water Pressure -
In addition to fluctuating water heat, mineral deposits can build up enough to wear they start to block the pipes and reduce incoming water pressure to your home. If you notice this as an issue, contact our Spencer water heater repair team for assistance in figuring out this issue.
Leaks -
A leak can also be an indicator that you need hot water repair. It isn't an obvious sign unless you visually inspect your hot water heater. This is one problem you don't want to sit on. As you wait longer to address this problem, the leak can start to pool around your water heater and cause water damage.
Strange Sounds -
A little noise from your water heater is perfectly normal to hear. But, if you start hearing loud banging or cracking noises, this is most likely a mineral deposit causing your appliance to overheat. If you hear these strange noises, call our professional Spencer water heater repair technicians.
How Long Does a Water Heater Last?
At Midwestern Mechanical, we understand the importance of a reliable water heater for the comfort and convenience of your home. One common question we often encounter is, "How long does a water heater last?" The lifespan of a water heater can vary depending on several factors.
We will explore these factors and provide you with a comprehensive understanding of the expected lifespan of your water heater:
Type of Water Heater
The type of water heater you have installed in your home plays a significant role in determining its longevity.
Here are the three most common types and their typical lifespans:
Conventional Storage Tank Water Heaters: These traditional water heaters feature a large storage tank that holds a certain volume of hot water. On average, a well-maintained storage tank water heater can last between 8 to 12 years. However, some models may last up to 15 years with regular maintenance.
Tankless Water Heaters: Tankless water heaters are gaining popularity due to their energy efficiency and compact design. They heat water on demand, eliminating the need for a storage tank. With proper maintenance, a tankless water heater can last around 20 years or more.
Maintenance Practices
Regular maintenance is essential for prolonging the lifespan of your water heater.
Some key maintenance tasks include:
Flushing the Tank: Sediment buildup can occur over time, affecting the efficiency and performance of your water heater. Flushing the tank annually helps remove sediment and maintain optimal functioning.
Checking the Anode Rod: The anode rod is a sacrificial component that protects the water heater from corrosion. Checking and replacing the anode rod when necessary can significantly extend the lifespan of your water heater.
Temperature and Pressure Relief Valve: Testing the temperature and pressure relief valve annually ensures its proper functioning, preventing excessive pressure buildup and potential damage to the unit.
Professional Inspections: Hiring a professional technician for periodic inspections allows for early detection of any issues or potential problems. They can provide necessary repairs or recommend replacement if needed.
Water Quality
The quality of the water in your area can impact the lifespan of your water heater. Hard water, characterized by high mineral content, can lead to mineral deposits and scale buildup inside the tank and pipes.
These deposits can affect the efficiency and longevity of your water heater. If you have hard water, consider installing a water softener or a scale prevention system to minimize the negative effects.
At Midwestern Mechanical, we are dedicated to helping you make informed decisions about your water heater. If you have any questions or concerns about your water heater's lifespan or need professional assistance with installation, maintenance, or repairs, our experienced team is ready to assist you.
When to Replace Your Water Heater
Most water heaters can be expected to provide reliable performance for about 8 to 10 years. Over time, the components and structure of the tank will begin to erode. Eventually, the water heater may stop working completely or start leaking, which can cause extensive water damage to your home or commercial property. In order to avoid disaster, consider replacing your water heater when it is near the end of its expected life or at the first sign of a problem.
Replacement is usually necessary when there is:
Not enough water
Water pooling around the tank
A frequent need for repairs
More energy consumed by the water heater
Rust on the tank
Our plumbers have extensive product knowledge, and we partner with the best brands in the industry to provide high-quality water heater installation in Spencer and Spirit Lake for residential and commercial properties.
We offer a wide range of options for tank water heaters, tankless water heaters, and hybrid water heaters from the best known and most respected brands in the industry.
---
Call (712) 201-2258 or contact us online to schedule fast & effective Spencer water heater repair, installation, or replacement today!
---
Flying High Above The Rest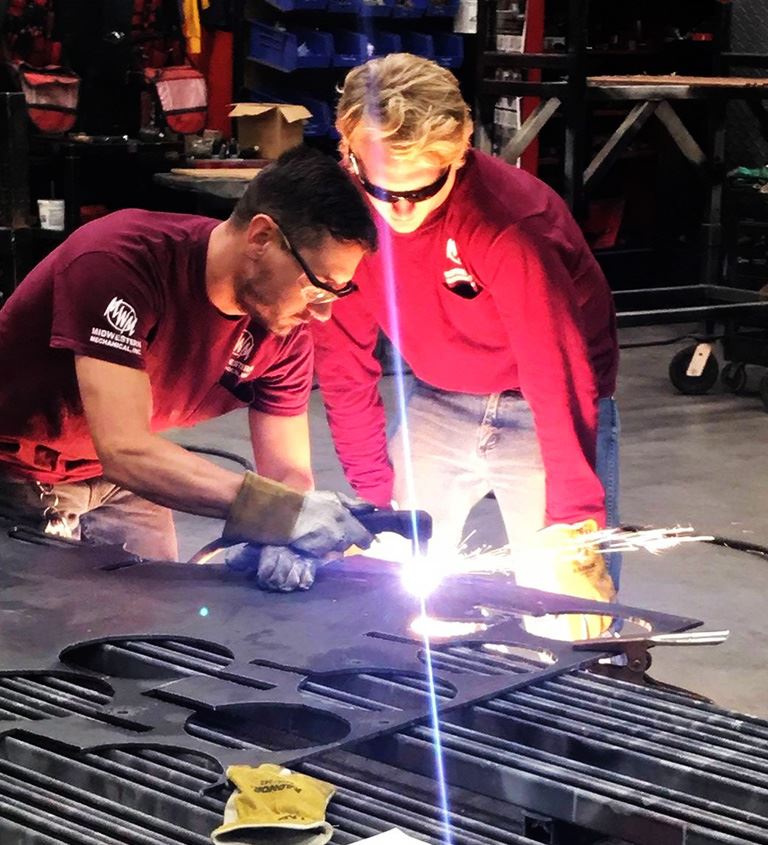 Free Estimates

Our estimates are always free whether in-person or over the phone.

Large Fleet of Trained Technicians

We have over 300 employees ready to take on any task.

Training Programs

We have our own apprenticeship program and training programs.

Available 24/7

We are always available to take your calls because we know emergencies happen.
Restaurants, medical facilities, hotels, and other commercial and industrial facilities require a reliable and steady supply of hot water, generally in much higher quantities. The average residential water heater is not sufficient for the demands of most commercial and industrial properties. We provide expert Spencer water heater repair, installation, replacement, and maintenance for commercial units from all major brands. Look at our customer testimonials and see what other people are saying!
When choosing a water heater for your business, it is important to choose the right one to ensure reliable performance. We assist local businesses with top quality heavy duty and light duty commercial water heaters. Our team can evaluate your hot water demand and help you select a unit with the capacity needed to meet the requirements of your business.
Call (712) 201-2258 or contact us online to schedule reliable water heater repair, installation, or replacement in Spencer, Spirit Lake, Milford, Okoboji, or surrounding areas today!